Celebrating Louisiana's Black History & Heritage
Find out how to celebrate Black culture, history and heritage in Louisiana!
Louisiana celebrates Black history all over the state, all year long. From Martin Luther King Jr. Day and Juneteenth festivities to Mardi Gras parades and cultural festivals - there's no shortage of ways to honor those who have influenced Louisiana through music, food and traditions that have made the state what it is today.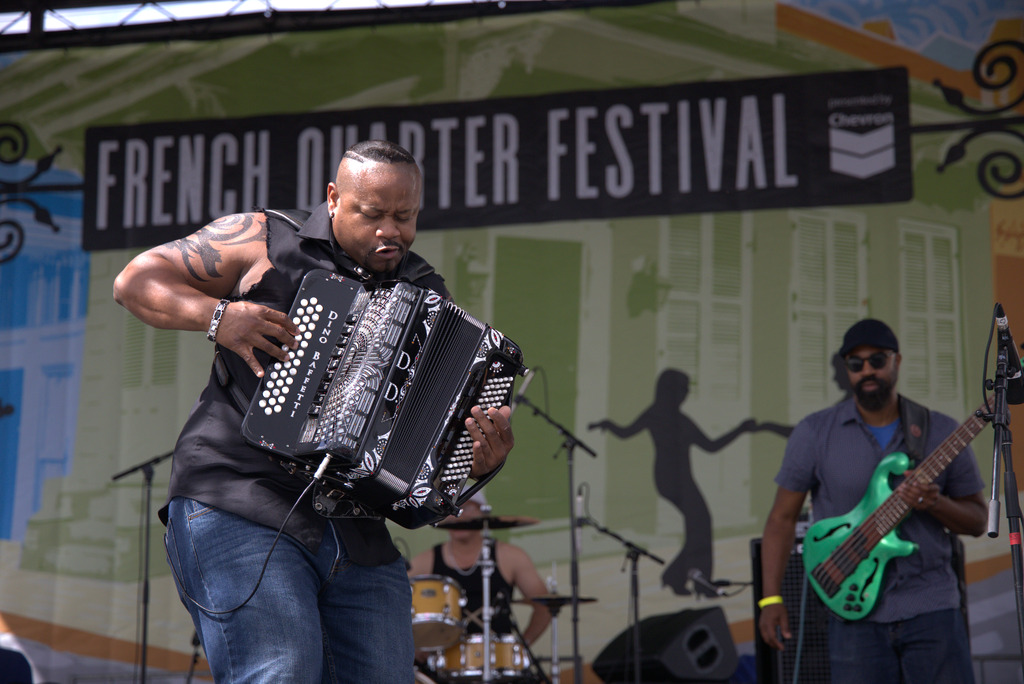 Dwayne Dopsie at French Quarter Festival in New Orleans.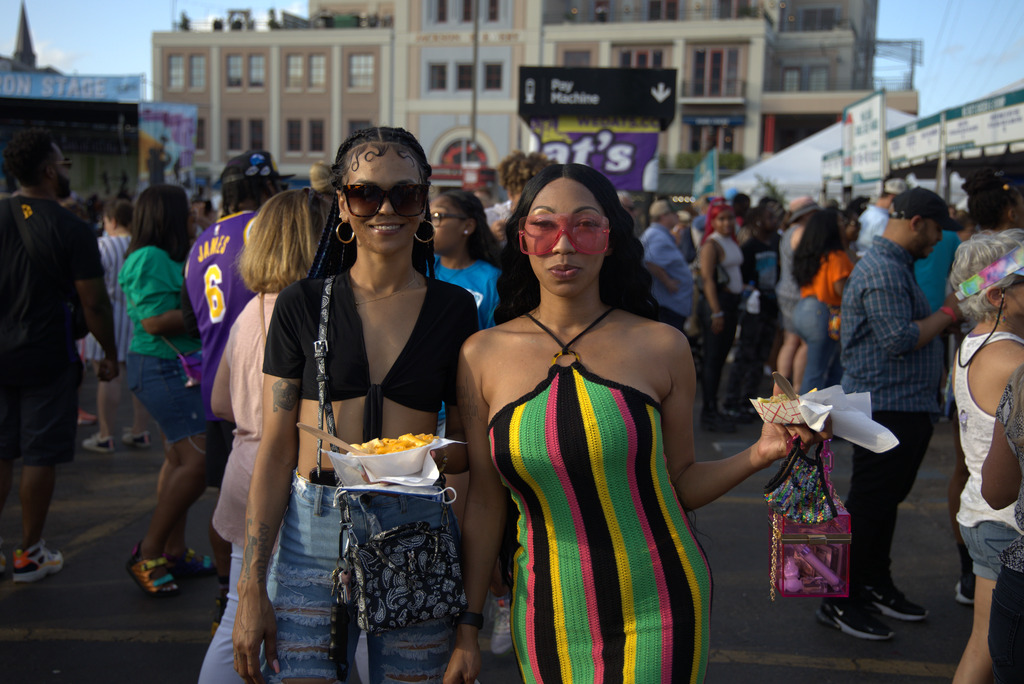 The French Quarter Festival is a fan-favorite!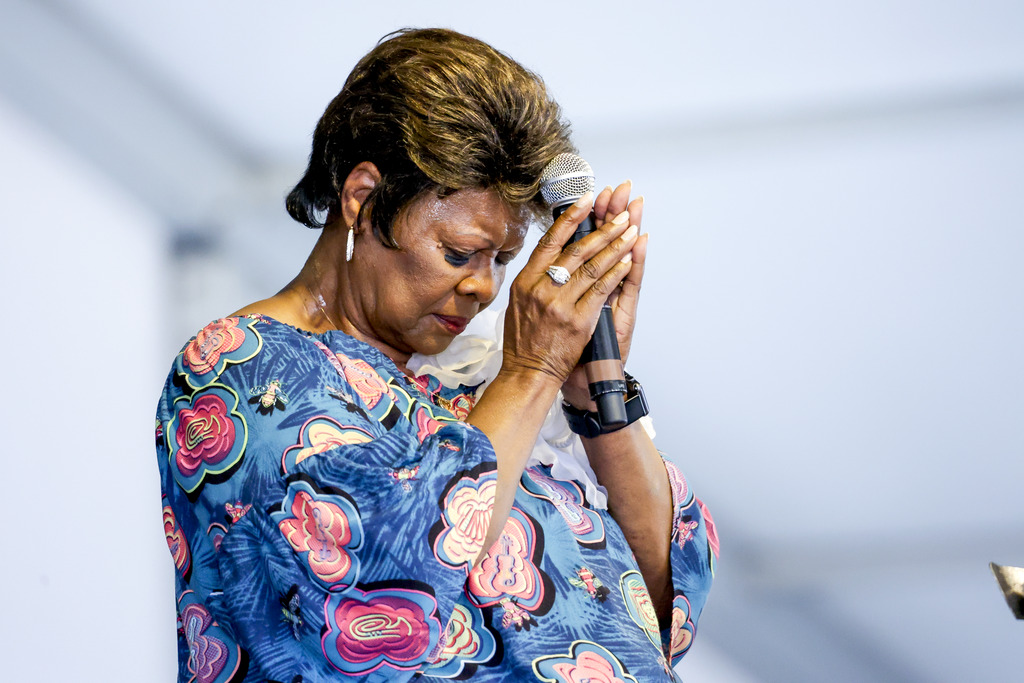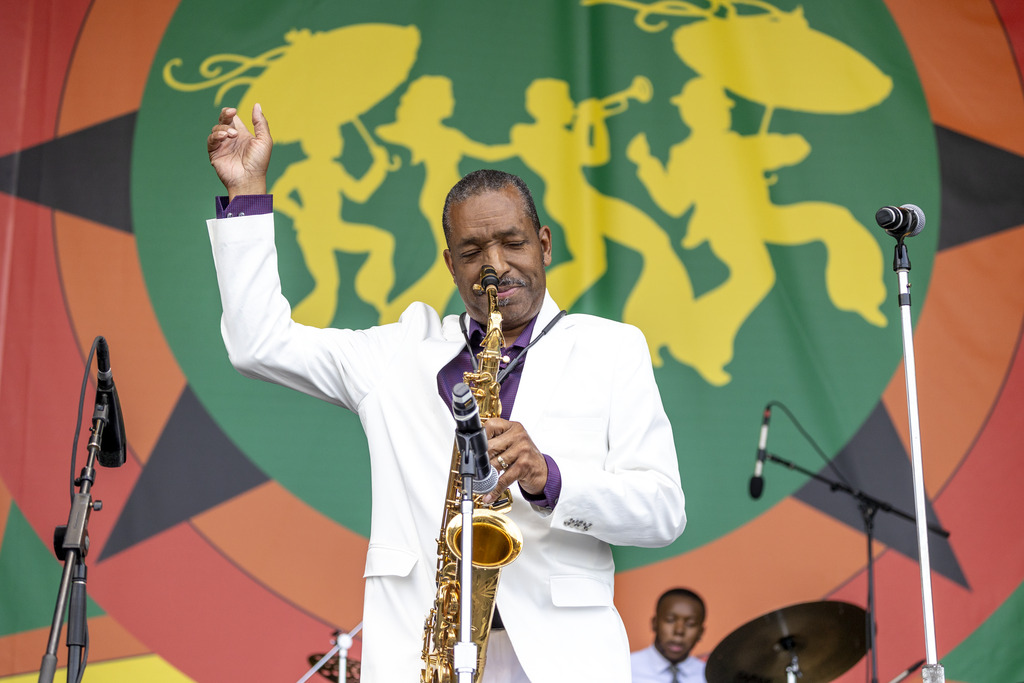 Big Chief Donald Harrison Jr. at Jazzfest.
Essence Music Festival
Essence Music Festival began in 1995 as Essence Magazine's 25th birthday party. The festival has become, in the words of its founders, "the largest African-American music and empowerment event in the country," attracting more than 200,000 people to New Orleans each year. Essence Music Festival is unique among major events in New Orleans and throughout the country, and it ranks among the most popular events in the world designed for African-American audiences.
Each year the lineup includes some of the biggest legends in music, including GRAMMY® award winners and nominees. Acts like Missy Elliott, Mary J Blige and New Orleans favorite Big Freedia have graced the festival's stages along with so many more inspirational speakers and civic leaders leading empowerment events. 
French Quarter Fest
The French Quarter Festival in New Orleans has been celebrating music since 1984. This annual spring event has become one of the most anticipated and best-attended celebrations in the state.
Billed as the largest free music festival in the South, French Quarter Festival attracts hundreds of thousands of people over three days. More than 20 stages in prime locations throughout the French Quarter in recent years have presented as many as 800 musicians representing every genre from traditional and contemporary jazz to R&B and New Orleans funk, from brass bands, folk, gospel and Latin to classical and international music.
Naturally, food is a big star here. More than 70 food and beverage booths located throughout the area feature authentic local cuisine from the area's oldest and most beloved restaurants, as well as up-and-coming stars of the culinary scene.
New Orleans Jazz & Heritage Festival
New Orleans Jazz and Heritage Festival is, arguably, the biggest and best-attended multi-style music festival in the world. The grand event, named for New Orleans' indigenous music, unfolds across two weekends—always the last weekend in April and the first weekend in May. It's the place to hear and see the great names of Louisiana music like Trombone Shorty & Orleans Avenue, Buddy Guy, The Meters, The Preservation Hall Brass Band, Aaron Neville, Dr. John, Big Freedia and the famed Mardi Gras Indians.
While the main stages are always a big draw, a visit to the Cultural Exchange Pavilion is always a must-visit. Since its addition in 1996, the Cultural Exchange Pavilion has celebrated Louisiana's multicultural heritage. The Pavilion serves as a hub of cultural exchange, where festival attendees and local artists can mingle with master craftsmen and performers from places like Haiti, Mali, South Africa and more. The Pavilion is home to culturally-focused artist demonstrations, live music and dance showcases, parades, cultural displays, photo exhibits and authentic cuisine.
Satchmo Summerfest
Take part in New Orleans' rich musical heritage at the annual Satchmo SummerFest, a multi-day jazz festival celebrating the life of Louis "Satchmo" Armstrong. With seminars, art displays, live music and lots of locally made beer and cuisine, festival-goers are sure to get a taste of New Orleans' vibrant culture.  
Experience live music all weekend featuring traditional jazz, contemporary jazz, brass bands and children's programming across multiple stages. From up-and-coming artists, to festival veterans who have taken the stage for years, to Grammy-nominated (and winning) acts - you'll get a taste of all musical the talent Louisiana has to offer.
Get a deeper appreciation for the festival with a visit to the Satchmo Legacy Stage - which features a variety of national and international speakers, including jazz scholars, people who knew and worked with Louis Armstrong, historians, Armstrong House Museum faculty, and musicians. You can even try Louis Armstrong-inspired dishes from New Orleans restaurants. 
Tremé Gumbo Festival & Congo Square Rhythms Festival
The Tremé Creole Gumbo and Congo Square Rhythms festivals, founded in 2008, sit on the outskirts of the French Quarter in Tremé, celebrating the neighborhood as a key proving ground in the birthplace of jazz! It was in Congo Square that enslaved African people gathered on Sunday afternoons to practice their ancestral traditions. Their legacy lives on in our Tremé Creole Gumbo Festival, a free event that celebrates the music, food, and dance of our forebears, creating an event that is fun for the whole family.  Catch everything from brass bands and performances by popular Mardi Gras Indian acts, to drum circles and African dances. The combined festivals also feature a large Arts Market hosting dozens of local artists that showcase their handmade creations. Hungry? Enjoy all the local eats, such as gumbo in every variety (of course), Yakamein, pralines, beignets and more.
Zulu Mardi Gras Parade
Zulu is one of Louisiana's most historic Mardi Gras parades, started largely by men who belonged to a Benevolent Aid Society. While the group marched in Mardi Gras as early as 1901, their first appearance as Zulus came in 1909. In 1915, the parade saw its first use of floats, constructed on a spring wagon and using dry goods boxes. And on September 20, 1916, the Zulu Social Aid and Pleasure Club was incorporated. 
Today. Zulus floats are extravagant sights to see, uniquely throwing the Zulu coconut or "Golden Nugget" - one of the most sought-after parade throws in the state. According to the Zulu Social Aid and Pleasure Club, the first reference to the coconut tradition traces back to around 1910, when the coconuts were given from the floats in their natural "hairy" state. Some years later, Lloyd Lucus began stripping and painting the coconuts - a tradition that the parade devotedly continues today. Also jaw-dropping are the costumes of the royalty and riders who adorn the floats. Zulu has featured royalty since the early years, with notable kings such as Louis Armstrong, King Zulu 1949, who was featured in Time Magazine that year.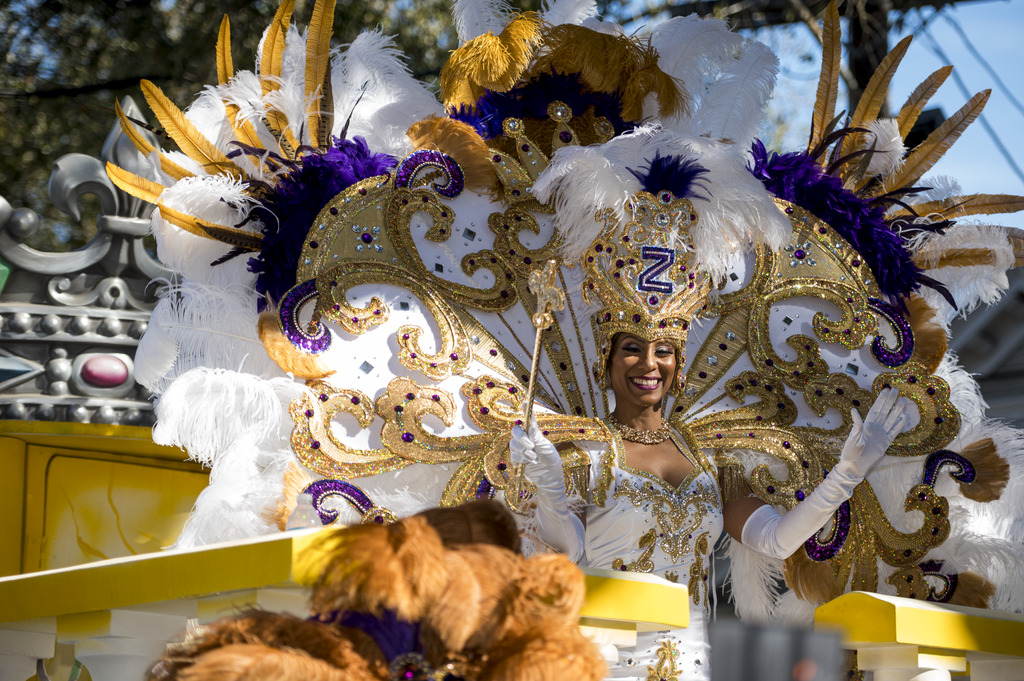 Queen of Zulu Mardi Gras Parade in New Orleans.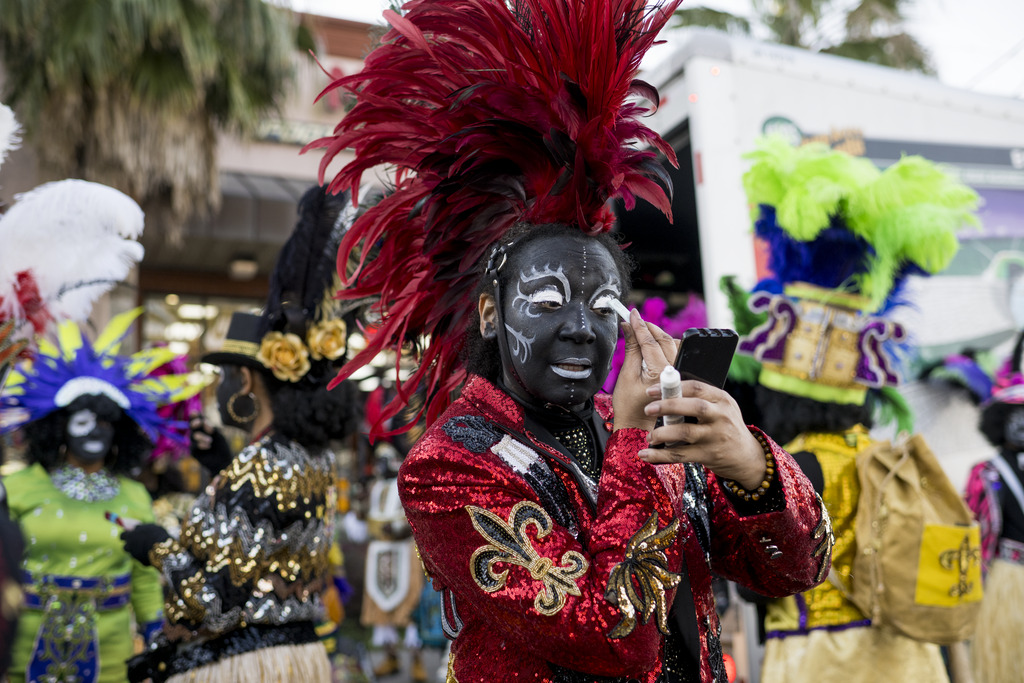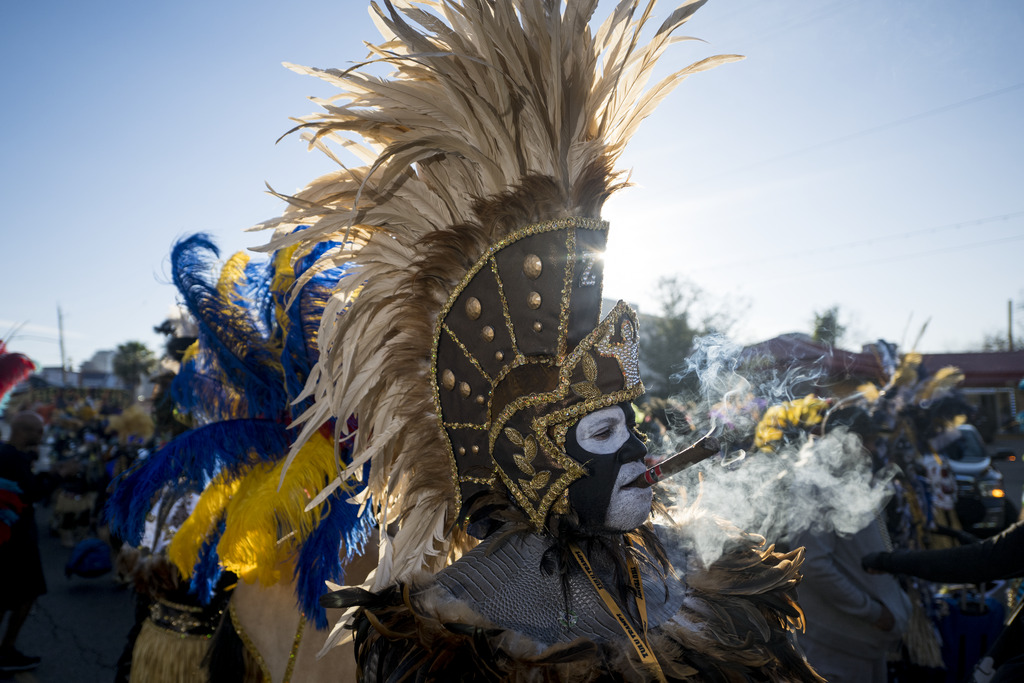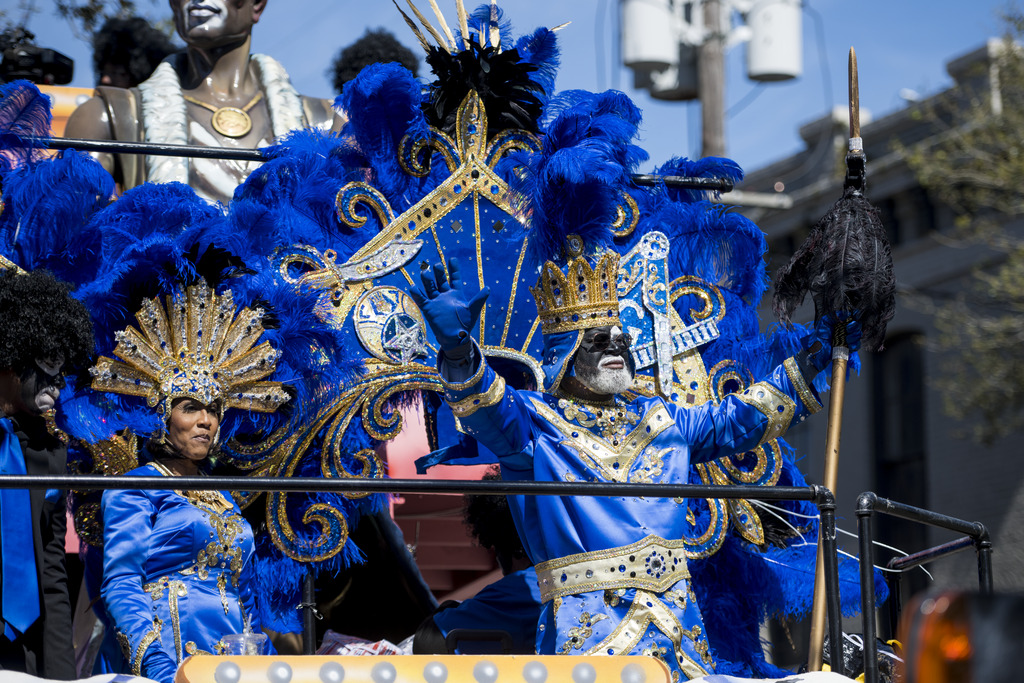 See the beautiful, ornate costumes at Zulu.
Black Heritage Festival
The Black Heritage Festival is chiock-full of performances and activities. Be awed at live musical performances of genres like gospel, zydeco, blues and feel moved by dance, expressive arts and theater. Peruse over 70 food and merchandise vendors and shop for goodies like art, books, jewelry, clothing. Be a spectator at the Soul Food Black Pot Cookoff, where competitors prepare their best soul food dish to be judged based on flavor, presentation and originality. Attend health, wellness and financial workshops or even pmpowerment, educational, political and business seminars. This event is for all! Bring the little ones to the Kids Zone for the baby expo, fashion shows, giveaways, and more.
Juneteenth Freedom Festival
Lake Charles sets out to create an event to bring pride to the local community with the Juneteenth Freedom Festival. Start the weekend off with the "Evening at the Cotton Club" event, which pays homage to the music and dancing of the Cotton Club era. Local vendors from all around the region will be selling art, music, clothing, jewelry, and other wares. Plus food serving up some of the areas best cuisine will be on site. From snow cones, face paintings, a movie under the stars and fireworks, this festival guarantees a fun time for all!
Krewe of Omega Mardi Gras Parade
The Krewe of Omega was formed in 1970 to bring Mardi Gras activities to the Black community. The parade is held each year on the Saturday prior to Mardi Gras and fills downtown streets with music, candy, beads, toys and lots of Madi Gras pageantry and cheer. Visitors have come from all over the state and beyond to witness this Mardi Gras tradition.
African American Parade Celebration
Since 1988, Shreveport has hosted the annual African American Parade Celebration, which honors the community every February during Black History Month and features local religious, youth and civic groups to entertain and delight spectators. Candy and Mardi Gras beads are thrown along the parade route in a procession filled with high-stepping bands, cheerleaders and dance troupes, churches, community and gospel groups, drill teams, youth departments, ROTC units, sororities and fraternities, civic and social clubs, horseback riders, motorcyclists and more.
The African American Parade Celebration held their first parade with only 50 people in attendance and 500 participants. Over the past 35 years, the celebration has grown to more than 150,000 attendees and 8,000 participants. This lively party is a must-visit!
Let The Good Times Roll Festival
Join Rho Omega and Friends at Festival Plaza for a three-day festival honoring African American heritage and culture in celebration of Juneteenth – one of the largest in the south bringing in around 25,000 visitors annually. This event truly celebrates the African American community's music, art, fashion, and unity. Let The Good Times Roll Festival features performances by top names in soul, gospel, hip-hop and R&B. Be sure to check out the lineup with local, regional, and nationally recognized musicians. Partake in the festival's all-ages Juneteenth Freedom Bike Ride that rolls through downtown Shreveport, historic neighborhoods and Civil Rights sites.
Juneteenth Freedom Parade and Market
Up in Monroe, the Juneteenth Freedom Day Parade & Market, hosted by the Monroe Regional Black Chamber of Commerce, honors African American history. The Juneteenth Freedom Parade takes place on the Saturday prior to Juneteenth, and the event highlights an annual theme, such as "Re-Discovering Our Roots."  
Later that day, the Freedom Market takes place at the Downtown River Market. This market is a celebration of African American culture, and includes delicious food, local vendors and live entertainment.
Madam C.J. Walker Delta Juneteenth Festival
Ferriday
Join in on this multi-day festival in where people of all backgrounds can dive into Black culture and heritage. This festival, is aptly named after the famed African American entrepreneur, philanthropist, and political and social activist. Born Sarah Breedlove, she was the first child in her family born into freedom after President Abraham Lincoln signed the Emancipation Proclamation. She is recorded as the first female self-made millionaire in America.
Enjoy concerts emitting the sounds of blues, hip-hop, gospel and zydeco. And don't miss the Parade of Legends – celebrating historic and famed Black individuals through performances. Be sure to stick around for additional celebrations and entertainment, including Sunday's Gospel concert at St. Joseph church.
Juneteenth Celebration
Make your way to historic downtown Mansfield for annual Juneteenth Celebration. This event truly is a celebration with some of Louisiana's best hip hop, zydeco, blues and gospel artists hitting the stage. Don't miss the annual parade, food vendors, children's activities and more.
Learn more about Louisiana's Black history and heritage along our African-American Heritage Trail and the Louisiana Civil Rights Trail.